Veritonic has sent around notice of an addition to the analytics company's audio advertising effectiveness reporting — it is brand lift, the recollection and perception of a brand and its messaging.
Veritonic asserts that it is the only provider of end-to-end research, data, and insights, and says it provides clients with "a comprehensive view of their audio advertising effectiveness and the key drivers behind it."
The newly added brand lift tech can be applied to campaigns of any size, and across any audio category (e.g. radio, streaming audio, podcasts).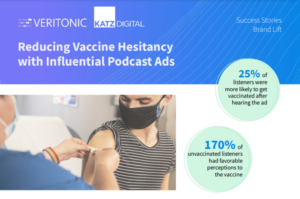 Katz Digital Audio is a partner client in this launch, and we looked at a recent case study meant to illustrate the product. (Get it HERE.) The podcast campaign was run by a U.S. state, with the goal of evangelizing and increasing Covid vaccinations. Veritonic's stated results: 25% of listeners were more likely to get vaccinated after hearing the ad, and 170% of unvaccinated listeners had favorable perceptions of the vaccine. (THe brand lift data was determined by comparing ad-exposed and ad-unexposed listeners.)
Further, Veritonic says it can determine ad script effectiveness within the commercial by what the company calls "second-by-second engagement data." (Go here for an explainer of Veritonic technology.)
"We are pleased to appoint Veritonic as a preferred Brand Lift partner," said Scott Porretti, President of Katz Digital Audio. "The most recent study findings–which include a 170% lift in favorability–meaningfully furthered the advertisers' confidence in audio as a highly effective channel for reaching their desired audience with the right message, in the right location, at the right time."
"We remain committed to continuously enhancing our technology, and to providing our clients with the data and performance insight they need to confidently execute, optimize, and understand the efficacy of their audio campaigns," said Scott Simonelli, Founder and CEO of Veritonic.  "The addition of brand lift underscores our platform's position as the exclusive destination for actionable audio insights from start to finish, providing our clients with the data they need to understand their campaign performance and more confidently invest in audio moving forward."
.