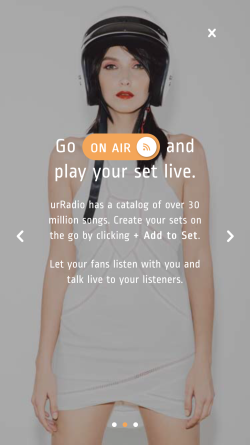 urRadio, a new streaming startup launched this morning, is based on technology that uniquely blends music discovery and broadcasting.
"We're changing how people listen to music by combining music with live broadcasting. urRadio integrates a live social and music application into one," CEO Tyler François told RAIN News in a pre-launch phone call.
The company is hinging its differentiation on what it calls Live Social Radio. It works by integrating an online broadcasting function with playlist-building and original content. Live Social Radio can be used as a feature within the music service, or as a stand-alone function which streams any source of audio from an individual to any number of listeners.
In addition to chatting and following, each a more standard social interaction combined with music, urRadio allows live, streaming playlist sharing. A user can create a playlist and live-share (broadcast) it in real-time to followers. The streams are exactly synchronized, whether shared with two people or thousands. urRadio is like Internet radio listening that goes both ways — to the station creator, and outward to the creator's followers.
In concept, urRadio's innovation is a unique enhancement of standard playlist sharing, which typically allows users to see what their friends are listening to, and access the station (as in Pandora) or playlist (as in Spotify). That type of sharing is un-synchronized; each listener moves through the music independently. urRadio behaves more like a pureplay online radio station, where listeners join a stream in progress, everyone listening to the same thing at the same time.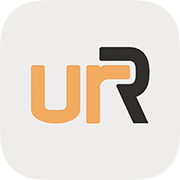 To emphasize the radio-emulating function, users can insert live voice breaks (e.g. dedications, or song announcements) on the fly. That feature makes urRadio potentially appealing to DJs and wannabe DJs.
One difference from DJ'ing, though, is how much control the user has over the music. urRadio operates as a non-interactive, statutory music service. Those legal terms mean that urRadio pays for its 30-million-song catalog through SoundExchange webcast licensing, as Pandora does. As such, users do not have the level of on-demand library access they would in an interactive music service like Spotify — that would require direct negotiation with labels for content licenses. Going the statutory webcasting route allows urRadio to leap into the market with an appealing, arguably unique feature set.
Playlists are dynamically created based on artists or songs. However, once a playlist is built by the system, the user can enter a Draft mode to rearrange song order, as long as it's compliant with webcasting regulations. For example, playing an entire artist album cannot be done. The system polices the rules automatically, protecting the user (and, more important legally, the service) from making a mistake.
Users can deploy imagination in how urRadio's broadcasting platform is used. Live programming can completely take over playlist programming — for example, a band could shout out to fans that it will broadcast a live rehearsal. Tyler François told us he expects users to create all-talk programming.
urRadio is available now in Android and iOS app stores. The app is free, and so is the service in what is a full, public beta launch.