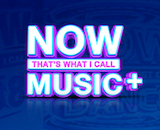 Pricing options are turning into one of the more interesting trends in streaming music, and now labels are also getting in on the act. Universal and Sony have collaborated on a limited access music app called NOW Music+. The app, which quietly launched in the UK earlier this year, includes a limited catalog of top chart hits and songs, although the labels have not stated how many songs it has. Access to the service costs £4.99 ($6.50) a month (or £5.99/$7.90 for sign-ups through the Apple App store). The app allows listeners to create their own playlists and download up to 100 songs per device for offline listening. It also has a limited feature set, with no search button.
The songs in the app are pulled from the Now That's What I Call Music series, which is jointly owned by the two labels. The Now series releases regular albums with hits from the top 40 charts or from specific genres.
Pandora just unveiled its own updates to its mid-price music tier, renamed Pandora Plus. Amazon's anticipated music plans also are slated to include an option that's cheaper than the industry standard of $9.99 per month.