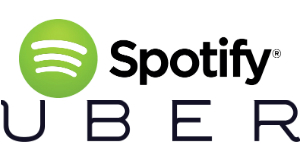 Imagine getting into a taxi and hearing your Spotify playlist, which you were just listening to, coming out of the car stereo. That is the vision, and starting this Friday the reality, of a partnership announced today by Uber and Spotify. Uber is the Internet-enabled car ordering taxi service.
Uber CEO Travis Kalanick led a conference call this morning to announce that the Uber app is linking up with Spotify. Spotify Premium subscribers will have the option of linking any Spotify playlist to the Uber car which is racing to the pickup location. The link-up will only work in enabled Uber cars. Drivers will be able to choose whether they want to enable the music connection in their cars; the only technical requirement being that their Uber-enabled phone can connect to the vehicle's sound system. Kalanick said that the link-up option would not appear to Spotify users in the Uber app when an non-enabled car is on the way.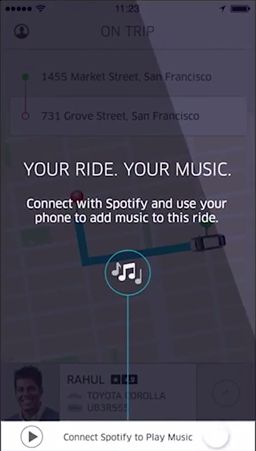 Kalanick emphasized Uber's focus on creating "highly evolved experiences" and said this was the company's first time letting people personalize their rides. Spotify CEO Daniel Ek was also on the call, and called the crossover "a magical experience."
Access vs. Ownership of Cars and Music
The heart of the deal is about ownership vs. access, of both music and transportation.
Ek noted a shared mission inherent in the two company strategies: Uber is about having cars on demand wherever you are; Spotify is about music on demand wherever you are. In this context, the agreement plays into the consumer trend of accessing content and services rather than owning them. Uber's success hints at a generation of consumers for whom car ownership might be a fading transportation model. Spotify represents the established consumer migration from owning music to accessing it in the cloud.
Selected Cities
The Spotify addition to Uber's app is rolling out this Friday in 10 cities worldwide: London, Los Angeles, Nashville, New York City, Mexico City, San Fran, Singapore, Toronto, Stockholm, and Sydney. Each of those cities will have its own suggested Spotify playlist curated by the local Uber team to celebrate the launch. The execs said there would be a wider geographic rollout down the road, but did not reveal any specifics about their timeline. Live music launch events will happen on Friday night in the target cities; Uber customers who link their new Uber apps to Spotify will be invited to those concerts.
Neither Kalanick nor Ek was willing to divulge business terms of the partnership on the conference call.
The use case of this new functionality presented by Daniel Ek was groups of party-goers riding to a Friday-night party "getting in the mood." The Uber/Spotify promotional video carries forward that idea: