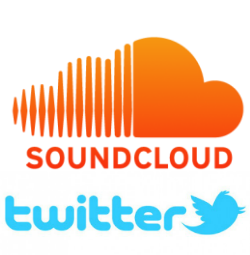 Twitter has confirmed that it has made a capital investment in SoundCloud. Re/code is reporting anonymous sources who say the investment is worth about $70-million.
So continues the long, unsteady relationship of micro-blogging service Twitter with music. Twitter's first meaningful tuneful venture was Twitter Music, a music discovery app which brought order to the platform's many conversations and recommendations of music, was discontinued in March, 2014. Two months later, in May, a rumor surfaced that Twitter was in talks to buy SoundCloud. Quickly, whatever talks were in progress were killed off, and the rumor died.
Notwithstanding efforts to get involved with SoundCloud via equity, Twitter has always had a good relationship with the Berlin-based audio platform, giving SoundCloud users an easy way to embed audio content into tweets.
The $70-million investment was confirmed by CEO Jack Dorsey, who said the investment happened "earlier this year," and was structured through the Twitter Ventures group. Re/code also quotes an unnamed SoundCloud spokesperson: "We can confirm that Twitter has made an investment in SoundCloud. Both companies facilitate and inspire contemporary culture to happen in real time while reaching millions of people around the world. This investment will enable SoundCloud to remain focused on building value for creators and listeners alike, and to continue the global rollout of many company initiatives such as our recently launched subscription service, SoundCloud Go."