Pandora has released a little burst of data demonstrating that landing on a Pandora station gives an artist more exposure than landing on a terrestrial playlist — when the artist is up-and-coming but not there yet.
Here's the data graphic; explanation follows below: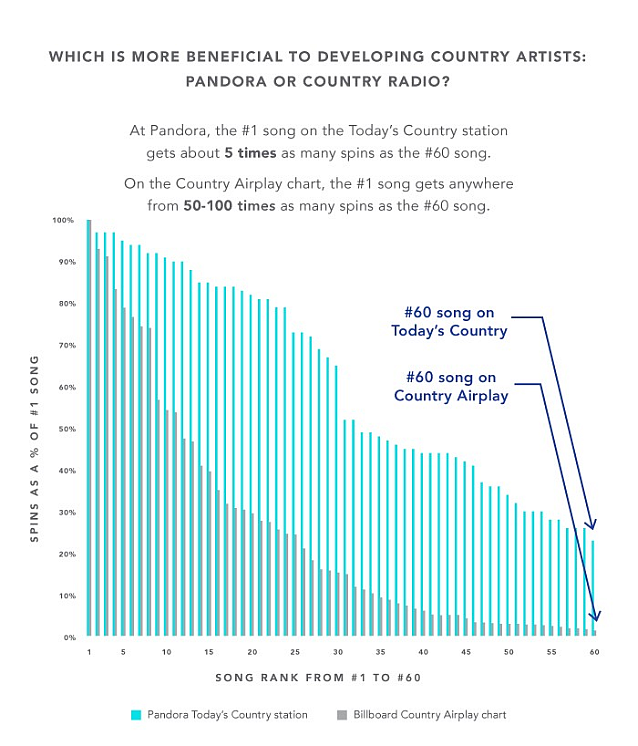 The mini-study compared number of spins for the #60 song on Pandora's today's Country playlist, compared to spins for the #60 spot on Billboard's Country Airplay chart. (This article is by Glenn Peoples, ex-Billboard staff writer who recently took a role in Pandora in Music Insights and Analytics. Oddly, the article was published in Medium, not on one of Pandora's blogs.)
As the chart shows, there is a wider difference between #1 and #60 in terrestrial spins — there can be 50 to 100 times more for #1 than for #60. In the Pandora playlist, it's about five times as many, so the #60 artist gets greater exposure.
The point is laid out like this: "Traditional country radio can be very powerful to a handful of stars while Pandora provides more opportunity for a larger number of country artists to get heard." Glenn Peoples calls personalized online radio "democratic" in this regard.
The article continues with other case studies, where songs had identical or nearly identical rankings in the terrestrial and Pandora playlists. In those examples, the song got more spins in Pandora.
In all this research, Peoples used the total audience tracked by Nielsen for the terrestrial stations, presumably smoothing out the difference between radio's one-to-many model, and Pandora's one-to-one model of track spins.