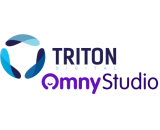 In the latest addition to Triton Digital's globe-spanning clientele, Jagran New Media has turned over its podcast content to Triton's advertising technology, and its Omny Studio unit, to distribute and monetize Jagran's podcasts.
Jagran New Media is the digital division of Jagran Prakashan Limited, India's preeminent media and communications group. A cross-category behemoth, Jagran operates in print, out-of-home advertising, radio, and digital media. The company operates 10 digital platforms across content categories of education, lifestyle, entertainment, health, and others. These platforms serve 80-million users and are partially represented by websites such as OnlyMyHealth and HerZindagi for women.

Omny Studio will host Jagran podcasts and distribute them across platforms and devices. Triton's ad server will provide dynamically inserted commercials, while its programmatic platform will offer Jagran inventory to buyers all over the world. We don't see a consolidated portfolio of Jagran's podcasts on the corporate website, but Omny Studio shows a daily horoscope show, and a "hitech" podcast. Both shows are in Hindi.
"Triton's experience working with the largest digital audio and podcast publishers around the world makes them the perfect partner to both power and support our growing podcast strategy," said Anamika Sharma, Chief Product Manager at Jagran New Media. "Triton's feature-rich, seamless technology will enable us to create and deliver even more engaging content while furthering our reach and growing our revenue."
"We are pleased that Jagran New Media has selected Omny Studio to power its podcast strategy, enabling them to easily create, share and promote their content," said Aditya Summanwar, Director of Monetization, APAC at Triton Digital. "Additionally, we look forward to helping Jagran New Media harness the power of programmatic advertising to increase their revenue and provide an even more engaging listening experience for their audience through relevant, meaningful ads."
.