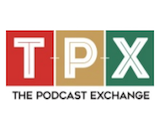 Corus Entertainment, a major radio/TV group in Canada, has followed up its recent executive podcast hiring spree, allying with The Podcast Exchange (TPX) for representation to buyers. The deal, announced today, interestingly includes both Canada and U.S. representation.
Corus owns 39 radio stations, and develops on-demand content across that portfolio. The group also produces originals, from which today's announcement focuses on The Ongoing History of New Music hosted by Alan Cross. Corus promises more originals over the next year.
The promise is likely to be fulfilled considering recent Corus investment in executive talent. In March Corus moved Chris Duncombe into the position of Director, Streaming and Podcasting. Then in May, Dila Velazquez was brought in as Manager of Content/Audience Development, reporting to Duncombe.
"Corus Entertainment has taken a leadership position in the Canadian podcast market, and we are delighted to be working with them," said Jean Marie Heimrath, President and CEO, The Podcast Exchange. "This strategic partnership will help Corus continue to offer vibrant and growing shows for the Canadian podcast listener."