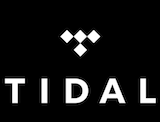 Tidal appears to be giving listeners an unusual new tool for adjusting their experience. According to the latest update to Tidal's mobile app, the service is adding a Track Edit feature. "You can now edit the length and tempo of a track and save it to a playlist with the new Track Edit feature," the update notes say. The tools are in the option menu next to any track.
The basic concept here resonates the Spotify Running smart playlists, which maintain consistent tempos based on the speed the listener is jogging (or sprinting) at. But while Spotify selects music that matches a runner's stride, Tidal's feature appears to allow the listener to not just tweak tempo, but also to adjust the length of the track.
It's cool to offer this type of DJ toolset for listeners who want more direct control over creating a flow in their playlists. At the same time, it's unusual to allow dramatic alterations of an artist's recording. Changing tempo certainly distorts the music as intended and produced. The resulting "performances" are private, one-to-one streams, so it is conceptually no different from the pitch control of an old-style radio studio turntable, or the speed control in some podcast apps.
At the very least, it is a tiny differentiator in a filed where all the competing services are trying to stand out.