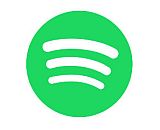 Spotify has released three updates this week, each touching on a different area of the streaming service's offerings.
First, it introduced a Car View. This mode for the Android version of the service will automatically be enabled when a phone is paired with a vehicle over Bluetooth. It's a streamlined version of the usual Spotify interface, displaying the song title and artist with larger text and no album art. There are also larger buttons and fewer control options available. Car View is an addition to Spotify's other integrations for managing music behind the wheel, such as its integrations with several infotainment dashboards and with Google Maps and Waze.
Second, Spotify may be expanding its integration with dating app Tinder. The two companies initially paired up in September 2016. Spotify and Tinder are testing new integrations that would allow the sharing of Spotify tracks in Tinder's chat platform. For now, it's still in tests rather than an official feature launch, but users have spotted the option on both web and iOS platforms globally, but Spotify is the only music service being tried out.
Finally, Spotify has been making adjustments to its language about distributors. The company publicly named five services as preferred distributors in the fall, but now it has shuffled its apparent prioritization. Two services – DistroKid and CD Baby – were dubbed "Spotify preferred artist distributors," while EmuBands is simply a "recommended artist distributor." Labels received a similar breakdown, with The Orchard as the only one to be deemed "Spotify preferred" while FUGA and Believe got the "recommended" title. Spotify specified that its investment in DistroKid did not impact the company securing a higher preference.