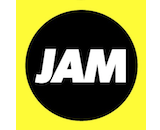 Most online music platforms have such a large volume of songs and listeners that they unintentionally make sharing difficult. With the days of the mixtape long gone, there are few ways for people to share that song stuck on loop in their head with their friends.
Enter This is My Jam, a polished resharing and curating service. This platform aims to streamline the online music world by letting users highlight just one song at a time on their profiles. By restricting people to one tune, the goal is to pair a higher caliber of curation with a social sharing element. People can follow others whose taste they enjoy, and the platform tracks how many people share a given track as their jam. It even gives extra kudos to the person who shared it first.
The service lets users share music videos from YouTube as well as the embedded audio tracks from SoundCloud. This Is My Jam resides in an intriguing cross-section between popular online music services, especially since it just announced that it has a Spotify app that lets members collect all of their jams in one place. With SoundCloud's recent addition of advertising, this type of resharing to outside platforms can be good for the musicians. YouTube also adopted a digital tip jar that means more views has the potential to make more money.
The flip side is that This Is My Jam does give further evidence for just how many people have uploaded songs to either of those platforms despite having no rights to them. YouTube's Content ID has helped protect the original artists, but SoundCloud is still trying to find an appropriate in-house response to the issue. Watching how these tangential services respond to the changes to improve copyright protections at the major streaming outlets is sure to be interesting.