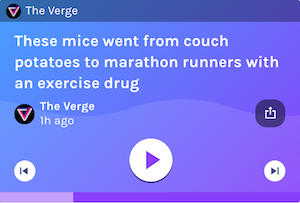 The Verge has entered a partnership with Anchor, using the short-form audio platform to help solicit reader feedback on new podcast ideas. The publisher said it is using Anchor to try out many different ideas and formats for new audio programming. Its channel will be experimenting with "original audio stories, interviews, columns, soundscapes, and whatever else makes noise." The Verge is seeking listener feedback on the different tests.
Anchor began as a blend of social features and radio. It was a finalist for best audio startup in the 2016 RAIN Awards. Earlier this year, the platform released an update that shifted the focus more heavily onto the radio features. It now supports audio clips of up to five minutes in length, and the new in-app branding all leans on radio jargon.
The endorsement of a popular online publisher seems like a solid boost to Anchor's potential audience. It's also a possible blueprint for how other audio upstarts might seek out other tie-ups in the media space. Print publishers are increasingly complementing their articles with audio or video, so specialists in either field could offer big value.