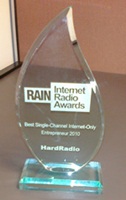 This week we are revealing finalists in the 7th Annual RAIN Internet Radio Awards. Today we are pleased to announce the advancing finalists in the "Best Podcast" category, and the "Best Audio Startup" category.
The single winners of all six RAIN Awards categories will be revealed and honored at RAIN Summit Nashville on September 20, as the closing session of the day-long conference.
Best Podcast
This category celebrates the best spoken word on-demand audio series. The program must originate online, as opposed to a show created for  broadcast radio and archived online — e.g. Serial is eligible, but This American Life is not. Judges may consider originality, production quality, entertainment value, longevity, and presentation.
We received submissions from most of the major podcast networks that are involved in production, and from many independent producers.
Congratulations to this year's finalists (in alphabetical order):
2 Dope Queens: Phoebe Robinson and Jessica Williams host their favorite comedians for stories about sex, romance, race, hair journeys, living in New York, and Billy Joel.
Dunkumentaries: A celebration of the slam dunk in all its glory. Over the course of five podcast episodes, we explore the stories and personalities connected to the most powerful shot in basketball.
Football Weekly: From The Guardian, which has been producing podcasts since 2004.  Football Weekly podcast is a global leader in sports journalism, running for nine years.
Best Audio Startup
This new category is for early-stage startups related to audio streaming. Eligible submissions include music discovery apps, social audio platforms, podcast innovations, or any new venture related to streaming audio. This category is intended to expose new innovations.
Congratulations to this year's finalists (in alphabetical order):
Anchor Radio: Anchor makes it easy to broadcast short audio clips to a global audience in seconds. Listeners can talk back, sparking instant group conversations that were never before possible. Part radio, part social network.
Clammr: Clammr makes on-demand audio easier to discover and share. Audio creators can embed our share button into their audio players to enable listeners to share their favorite clips to social media.
Otto Radio: Otto Radio works like Pandora for podcasts and news, using your interests and listening habits to find stories you'll love. Otto Radio curates everything with the push of a button, automatically tailoring broadcasts to your tastes and preferred length.
The Ceremony in Nashville
Thanks to all of our nominees. The RAIN Internet Radio Awards recognize the achievements and the best practices of the internet radio industry.
RAIN Summit Nashville is the premiere knowledge and networking conference for the Internet radio and online audio industry and a partner event of The Radio Show. Scott Borchetta, Founder and CEO of Big Machine, will keynote the event. Join us for the industry's best knowledge sessions, the networking, the AWARDS, and the best cocktail party in the industry!