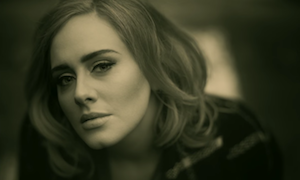 The results are in! Sound like election night? In a sense, the release of Adele's new album, 25, served as a referendum in many people's minds. The issues? Magnitude of stardom, and distribution strategy.
If you didn't consider Adele the most high-impact music star in the world before last week, you might be forced into that assessment now — Adele's first album in four years smashed previous first-week sales records in the U.S., and is doing well globally. In the American market, 25 sold 3.38-million units, split pretty evenly between CDs and downloads. In revenue, first-week sales of 25 represent over 50% of sales of the top 1,000 albums this year, according to BuzzAngle.
After one week, 25 is already the biggest album of 2015, surpassing Taylor Swift's 1989.
Those two releases share quite a bit — big success, numerical titles, and launch strategies that withheld the albums from on-demand music services. And that last one is a big referendum point for some observers. Does withholding a release from interactive streaming force demand into CDs and downloads? Does it debunk the streaming business model for musicians? Or does the strategy merely carve out an addressable market of consumers who aren't yet in Spotify, Rhapsody, Deezer, etc., and frustrate those who are?
While that answer is not immediately known, it's worth noting that the secondary tracks on the album — that is, everything except the pre-release single, "Hello" — were not played on the radio much (according to RAIN's informal research on the newly-released OnRad.io app). And "Hello" was given to the music services, and to YouTube.
It was after the release of "Hello" that Adele and her partners agreed to withhold the album from music services. The single was a strong leading indicator of album success, by itself stirring monumental interest. The official video has been streamed 546-million times. The song  has been streamed on Spotify 203-million times. Pandora reported that spins of "Hello" outplayed the most popular Adele track from previous albums, five to one.
There was little to distinguish marketing the album from marketing the single. Radio programmers were uninterested in the supporting tracks — perhaps even afraid of tune-outs, knowing that "Hello" was in heavy rotation down the dial. This made the album sale an old-school come-on: "You love the single, now buy the album." That is exactly the consumer value proposition of the pre-Napster, pre-iTunes era. Napster broke that equation in half with a gray market for music singles, and iTunes dismantled the album as a legit business that swarmed over music retailing.
Today, the mystery-album proposition is increasingly disproved, quarter after quarter, year after year, as personalized music delivery becomes expected. No doubt Spotify doesn't love it that 25 is excluded from its 30-million-track catalog. But how much streaming business would the 10 "other" tracks have driven? Adele herself, and her label, don't seem to care much about exposing those other tracks. "Hello" is the sun; the other tracks are planets circling around it, invisible in the glare.
So, 3.38-million people have on-demand access to those other tracks, via legacy platforms like CDs and iPods. Twenty-million Spotify subscribers do not, except for platform overlap. That's a marketing proposition that works for Adele, and maybe Taylor Swift, but very few others.