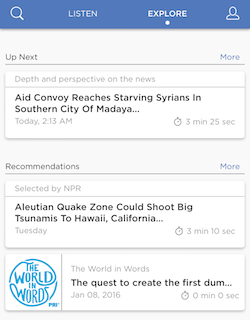 The last time we took a close look at NPR One, the innovative audio mobile app from the public broadcaster, was right at its launch. The app has kicked off the new year with an update that beefs up the browsing and discovery options. Version 1.6 adds a fresh layer of personalization and flexibility to the already excellent app.
The big change is the addition of Explore, a new tab at the top of the screen that gives listeners a chance to get more hands-on with their programming choices. It lists the next clip to be played, recommended clips, and what piece you recently heard. The section also teases some of NPR's featured audio shows. Tapping a thumbnail will give a profile page for that show, including audio clips that you can listen to on-demand. The shows are a mix of national level programming from NPR and local ones from whatever you've set as your home channel. So when I was exploring the Explore tab, I got lots of content from KCRW in Santa Monica.
Nieman Lab recently profiled NPR One and its ambitions to be the "Netflix of listening." The new focus on local content is an effort to secure more ears. "One of the biggest indicators of people coming back to NPR more often is the presence of a local newscast," NPR One Editorial Lead Sara Sarasohn said. "If you hear a local newscast, you come back more often." I really appreciate that nod to giving the listeners what they want.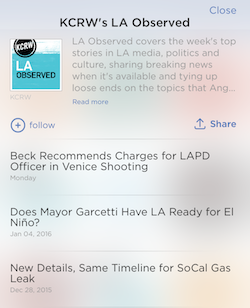 If there's a show you particularly enjoy, you can Follow it. This has become a standard function in many mobile apps, and it's an interesting addition to NPR One. The app initially focused on small, bite-sized audio content, but if you opt to follow a show, you can get entire episodes. For instance, you can take an interlude for an hour to listen to a show of "Planet Money" or "Wait Wait…Don't Tell Me!" Even more noteworthy, the search function now loops in programming from non-NPR sources. I found "Comedy Bang Bang" and "U Talkin' U2 To Me?" from Earwolf and Gimlet Media's "Reply All" and "Mystery Show." This inclusion is probably a sign that NPR understands its core listeners. People who like podcasts tend to really like podcasts. So why not give the people what they want?
I'm a big believer in options. NPR One's based stream of programming is very good overall, but sometimes I might find myself particularly in the mood to check out my local news or a linguistics podcast. The new update gives you that choice to take charge of your listening when you want, and to put your trust in the app when you want. If you haven't taken NPR One for a spin, I'd strongly suggest giving it a listen.