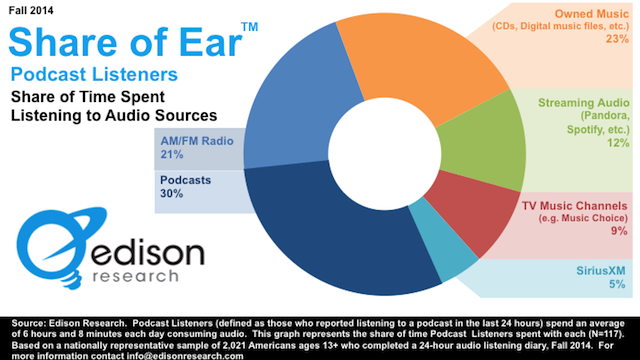 In a newly released piece of the ongoing Share of Ear study by Edison Research, podcast users justify the "super listener" label bestowed by Edison's report last spring.
The updated fall edition of Edison Research's Share of Ear study revealed that podcast listeners spend six hours and eight minutes each day (on average) consuming audio, much more than the four hours of listening among non-users of podcasts. That by itself is "super" listening, and a shift is occurring. Podcast listeners have shifted away from AM/FM since the first Share of Ear report. Now, podcast listeners spend 30% of their time with podcasts, against 21% in AM.FM listening. (In the previous report, the balance was 26% listening to podcasts; 28 listening to AM/FM.)
Edison extrapolated what it calls a "remarkable number": across the American population, listeners soak up over 21-million hours of podcasts every day.
Edison noted that it conducted its research during the height of popularity for the new podcast Serial, but emphasized that the results were more than just a reflection of that show. "While some of the shift in podcast listening has come from other forms of media (in particular, AM/FM Radio,) much of it is simply new listening, as podcast consumers continue to bring their podcasts with them into environments and settings where they previously might not have consumed audio." That note drives home a recurring Edison Research meme, that as listeners shift to new sources of audio, the entire listening pie is growing.
Below is the Share of Ear infographic about podcast listening from the first survey round. Note the Podcast/Radio balance shift, compared to the above graphic. Also worth noting: podcast listeners are spending a bit more time with streaming audio services (12%vs. 10.6%).
Final note: Edison predicts, "This is, indeed, going to be a big year for podcasting, and this is but our first clue."