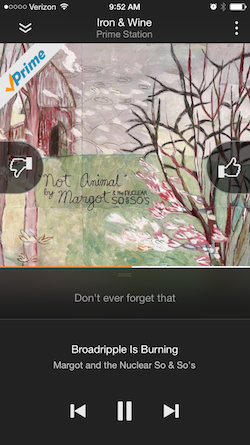 Amazon has updated its Prime Music iOS app with a set of lean-back radio stations. The feature arrived a few months back on the web version, but with mobile listening continuing to rise, bringing the fullest service possible to phones is likely to become more and more crucial to a music service's success.
Style-wise, the Prime Music app looks great. Designing for mobile's limited screen real estate can be a challenge, but the interface does a good job of making information available when you want it and hiding it when you don't. Especially in the Amazon ecosystem, where the radio service can connect to a personal streaming library or a digital music purchase, there are lots of options for where a listener might want to navigate. The app has done a good job of managing those actions.
The user experience is very reminiscent of Pandora; there are even thumbs-up and thumbs-down buttons to help tailor the radio selections to a listener's personal preferences. The distinguishing factor between Pandora stations and these new Prime stations is that Amazon is offering unlimited song skipping, and has no ads. (Amazon Prime is a subscription-only service.) That's the holy grail of radio-style listening, so the app gets major brownie points for that development. There's also a nice integration with X-Ray Lyrics to display the words to select tunes as they're sung.
But this isn't entirely an improvement over Pandora's offering. The radio choices do sometimes suffer from the small size of Amazon's Prime Music library. For instance, the artist seeds for indie stations were about as mainstream as you can get while still meriting that label (think The Shins, and Death Cab for Cutie) and the pop set was missing seeds for any of today's au courant artists (nary a Taylor Swift, Ed Sheeran, or Sam Smith). The lack of direct control over station seeds is one negative, and the library's lack of depth means that Prime Music won't be getting any nods as a music discovery tool.
Prime Music on iOS does offer a solid radio experience, but especially given how closely it resembles Pandora, the average listener may not find enough to convince them to switch over. But its connections to both a broader subscription program with other perks and its integration with the Amazon music store does give it the raw tools to be more of a music powerhouse. It'll be a question of acting on that potential.