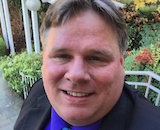 We learn from Billboard that Ty Roberts, Chief Technology Officer of Universal Music Group (UMG) has left the company after a little more than a year. There is no comment or formal announcement. The label declined to comment for Billboard, and apparently did not deny. We are trusting Billboard's sources in this story.
Ty Roberts, a RAIN Summit speaker alumnus, is well-known as an inventor and media technologist. Before the UMG assignment he was Chief Strategy Officer of Gracenote, which was formed by merging Roberts' previous company, ION, with the CDDB (Compact Disc Data Base) — a familiar brand in the early days of MP3 distribution as the built-in song identification layer in Winamp and other desktop players.
Ty Roberts' sideways career move from Gracenote to Universal was seen by many as a significant signal that the music industry could, to some extent, reinvent itself as a technology industry — or at least a tech-flriendly, tech-fluent one. That kind of thinking makes sense in an era when tech companies like Spotify and Pandora (no matter how much they self-identify as music companies) are the leading music industry revenue generators.