Digital audio advertising platform TargetSpot announced an alliance with LiveRamp, a tech company that helps advertisers connect with targeted audience segments. The deal becomes part of a complex data ecosystem which lifts streaming audio above linear audio in its ability to target precise audience groups and satisfy advertiser demand for data-rich audio campaigns.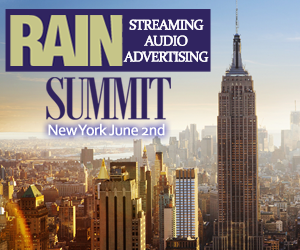 LiveRamp specializes in connecting the dots between an advertiser's offline customers and the online coordinates of those people. So, a brand like Lowe's could bring its database of customer information gathered in its physical stores to LiveRamp, which can then correlate that information with online records. TargetSpot's connection with LiveRamp allows it to offer that data connectivity to Lowe's as applied to TargetSpot streaming audio ad inventory. (This example is wholly fabricated to illustrate the roles played in data connectivity.)
Advertisers increasingly want to bring their own customer information (called first-party data) into their ad campaigns. The ability to segment and target a brand's own customers across channels (e.g. advertising to in-store customers within audio streams) is gold to everyone involved — the advertiser, the advertising platform, and the tech companies which stitch together consumer coordinates at the data level.
David Kert, COO of TargetSpot values this deal for its data-enriching aspect, and also because well-targeted advertising matches the personalization choices made by listeners who choose Internet radio stations. "The integration of LiveRamp into the TargetSpot digital audio ad platform allows brands to leverage their first party data to speak more directly to their consumers," said Kert. "What you listen to is a very personal choice, so delivering relevant messages helps brands connect with consumers in a more intimate way."
TargetSpot is owned by The Radionomy Group, an internet radio aggregating and hosting platform with over 50,000 stations. Radionomy is majority-owned by international media conglomerate Vivendi.
Travis May, CEO of LiveRamp, was recently named to the Ad Age "40 Under 40" list.