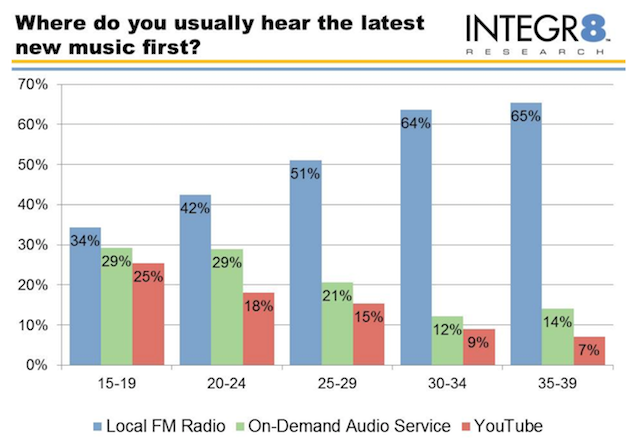 Integr8 Research released a third blog post with research into the role of radio for today's listeners. This installment reflected on radio's long-standing position as a driver of new music discovery. Traditional broadcast did still post the highest discovery rates across many demographic groups, the lead was much narrower for a few key consumers.
First, less than 50% of the survey respondents under age 25 said that local FM radio was where they usually heard the latest new music first. For the 20-24 age group, 42% said they heard new music on the radio first, while the 15-19 age group posted just 34%. Both age groups had 29% getting their discovery from on-demand audio services. YouTube had the best results among the teens at 25%.
On-demand audio subscribers were also less likely to use radio for discovery. Radio was still the top answer for those listeners, with a 41% share of respondents, but on-demand audio was the discovery source for 34%. For comparison, radio's share was 49% and on-demand audio was 23% across all participants. Listeners who use internet radio, Pandora, or Sirius XM all demonstrated larger discrepancies between the radio discovery and the on-demand discovery rates.
Connected car owners are the final demographic with less inclination towards music discovery on the radio. The owners of this vehicle type showed 43% discovering new music on the radio and 33% doing so through on-demand audio. Smart speaker owners were also a little off the overall rates, reporting 44% music discovery via local FM radio and 26% via on-demand audio.
RAIN News previously covered the first and second posts detailing Integr8's research into the intersections between radio and new technologies.