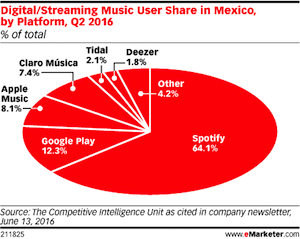 Spotify is a hit with Mexican listeners, according to data from The Competitive Intelligence Unit. More than 60% of Mexicans who use streaming platforms listen to Spotify. The next closest service is Google Play at just 12.3%. Apple Music has an 8.1% share and Latin American platform Claro Música has 7.4%. Pulling up the rear are Tidal at 2.1% and Deezer at 1.8%.
Spotify also had a solid share of Mexico's listeners in a GlobalWebIndex survey last year. The country ranked second in Spotify user penetration at 25%, only topped by the service's home country of Sweden (43%).
Despite these performance metrics for music services, Mexicans have demonstrated less interest in non-interactive online radio. Local listeners spend an average of about 4 hours with digital radio. That result provides an interesting counterpart to the U.S. Hispanic listenership, where online radio has been seen as not just common, but highly valued. A survey by Audio.ad found that 77% of U.S Hispanics listen to online radio at least once a week, and 88% said that online radio is an important part of their daily routines.