Along with its annual Podcast Download report, Westwood One has shared some insights from its survey by Advertiser Perceptions this week. The 2019 edition included 302 agencies and marketers.
It found that although consideration of podcast advertising flattened after several years of growth, discussions about the subject has continued to increase. Forty-two percent of respondents said they would definitely consider advertising in podcasts in the next six months, compared with 43% in the May 2018 survey. However, 75% of respondents said they have discussed podcast advertising as a possible investment, marking a rise from 70% in May 2018 and leaping up from 41% in September 2015.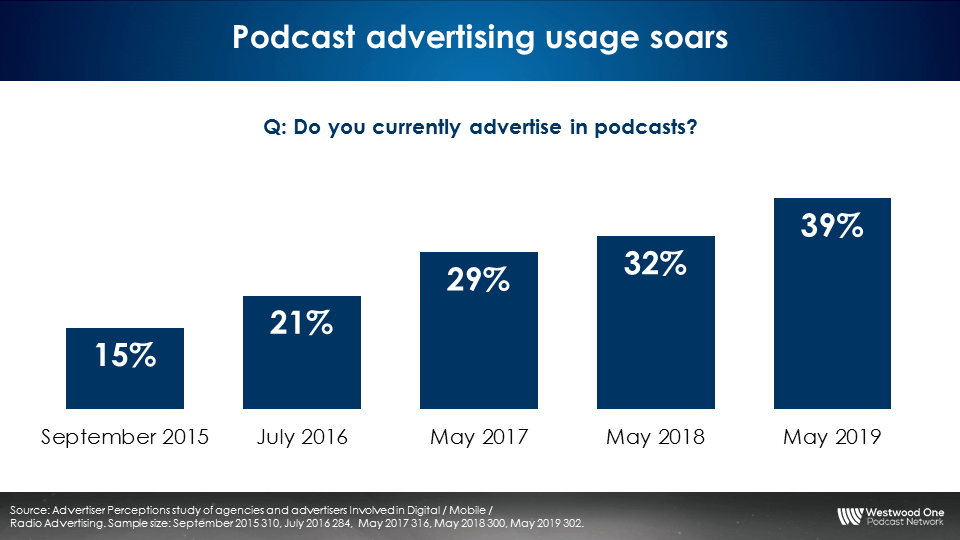 Active podcast advertising has also seen steady growth in each year of the study. The May 2019 result found that 39% are currently advertising in podcasts. That total has grown 2.5 times greater from the inaugural September 2015 result of just 15%.
"The audio industry continues to innovate in response to consumer needs, habits and preferences," said Frank Papsadore, EVP of marketing for Advertiser Perceptions. "Podcast growth is a clear-cut example. Add to their wide range of topics, new media superstars, and provocative, unedited content – the unprecedented growth of new listening platforms like smart speakers – and it's clear that an entertainment revolution is well underway."