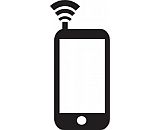 Mobile music is on the grow. Studies by comScore/Millennial Media and AYTM have shown increasing interest in streaming on tablets and smartphones. The latest demonstration of this push into mobile is the just-announced partnership between Nobex Partners and StreamLicensing.
Under the new deal, Nobex will help create custom apps for StreamLicensing's 1,200 radio stations. Nobex not only makes apps for a range of mobile hardware, but has services to help the stations monetize this increasingly important technology.
Considering how many stations are under StreamLicensing's wing, this is a solid foray into increasing the mobile footprint for Internet radio. Many of the best-known streaming radio services, such as Pandora, already have popular mobile apps. It might be a challenge for StreamLicensing's stations to get noticed in an increasingly crowded mobile market, but building a presence where people want to listen is a good first step.