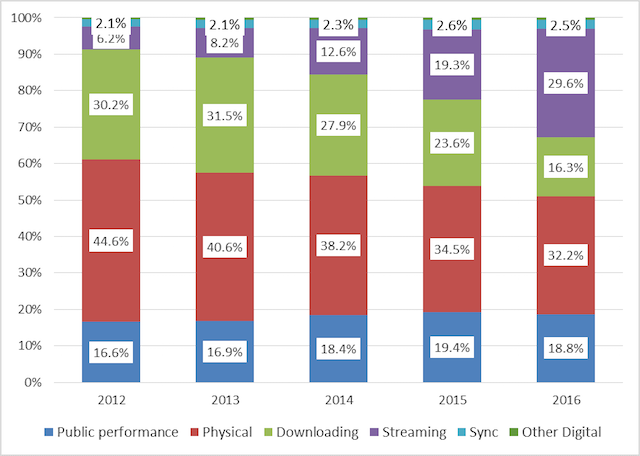 The British Phonographic Industry reported that the UK music industry saw 5.1% revenue growth in 2016. The year's performance of £926 million in trade income marks a five-year high. Following the trends we've seen for 2016 across many countries, the UK results stemmed from a 61% increase to streaming revenues. Streaming also grew its market share to 30%, falling just behind physical formats in overall revenues (32%). BPI predicted that streaming would exceed physical revenue in 2017.
Subscriptions provide the majority of streaming revenue at £238.6 million. Ad-supported streaming delivered nearly £9.8 million in revenue and streaming video had revenue of £25.5 million.
Total revenue from physical formats totaled about £298.4 million, down 1.9% from the previous year. Download revenue fell 27.3% to £151 million for 2016.
"It's encouraging to see revenues rise significantly, as more and more consumers enjoy the benefits of subscribing to a premium streaming service or rediscover the joys of vinyl," BPI CEO Geoff Taylor said. However, he cautioned that the advent of the UK's split from the European Union could pose problems for the music industry in future years. He called on the UK government to "[make] creative businesses a priority post-Brexit."