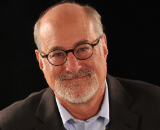 Steve Goldstein was EVP of Saga Communications for nearly three decades. He left Saga in March to start Amplifi, a new podcast company. This column was originally published on Blogstein, the Amplifi blog.
---
Last week, I was on a panel at the Talkers conference in New York moderated by Sean Hannity. The topic was the state of radio ratings, which has been on the mind of talk radio hosts, and programmers for some time as many have seen their audience share decline and influence erode.
Radio ratings are more problematic than ever, especially with the complexity of measuring listening on multiple platforms including streaming and podcasting. It's not easy to measure any media these days. Ask the TV guys who are reconciling the DVR, on-demand, hundreds of cable channels and viewership through multiple devices.
Sean, of course, is a skilled interviewer and Jon Miller, from Nielsen comported himself well as he walked through the challenges and progress of total audience measurement.
For radio, this has become a hot button issue as Voltair processors expose the weakness of encoded signals being detected during talk shows in PPM markets (yes, it's a real issue).
To be sure, every show and every station deserves full credit.
But what if talk radio's problems are more systemic than a rating shortfall? Many talk stations have an average audience age of around 62. And by the way, that's the same as Fox TV's Bill O'Reilly.
If you take the top 48 markets and look at talk radio's performance, as consultant Gabe Hobbs has done, you will see 33% erosion in 25-54 AQH over four years at a rate of about 12% a year. Gulp! Now, any station can have some variance in ratings from month-to-month. We have all lived with that headache. And some stations do much better. But data compiled from 93 stations makes it pretty, pretty reliable. The format is not healthy.
Good measurement is critical for the future of all radio, but don't let those issues become a sideshow and obscure the much larger challenge for talk radio. It must develop and introduce new audience. At the conference, many said that hosts have broadened their content beyond pure politics. So what. That is like saying Sears has great contemporary clothing. It may be true, but image change is glacial. And by the way, who shops at Sears? Really. Who?
If you have fresh and big ideas and can't get on talk radio, I know a place for your content to be heard that's growing, especially among younger demographics, and that's not idle chatter or lip service.