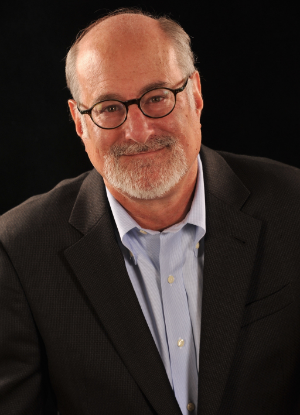 Steve Goldstein's Amplifi Media works with media companies and podcasters in developing audio content strategies. This column was originally published in Radio Ink Magazine. Goldsteing writes frequently at Blogstein, the Amplifi blog.
---
Starting a podcast is easy. It must be; everyone seems to have one. Keeping a podcast going is another thing. Industry veterans report that many podcasts "podfade" by their 7th episode, meaning they cease production. That feels right when one considers how difficult and time involved the creation of great content can be. And once a podcast has been published, it can be frustratingly hard to attract an audience and even more difficult to monetize.
Todd Cochrane is the CEO at Rawvoice/Blubrry. His company tracks podcast activity from its purview as one of the largest podcast hosting providers. They monitor and analyze Apple Podcasts and other sources, viewing overall trends. There are, according to Blubrry, roughly 540,000 podcast titles and the number rises by about 2,000 every week.
It is not hard to think we are at "peak audio" drowning in podcast content on every subject imaginable. There are 65 podcasts about knitting and 76 about wrestling, and more likely on the way.
But if good audio is hard to create and sustain, it stands to reason that while they are still available on Apple Podcasts and other aggregators, many podcasts have come and gone.
How many of those 540,000 podcasts are active and still in production? Cochrane estimates that in the previous two years, 200,000 new podcast titles appeared, and more than half are out of production. Certainly, there are exceptions such as limited series, but the overall mortality rate or "podfade" comes in at a remarkable 50%.
Cochrane says that in the 90 day period of April, May and June of this year, only about 20% of the 540,000 podcasts produced a fresh episode.
It doesn't change much when the variable is altered from 90 days to 12 months — 132,000 of the total 540,000 created a new show in all of 2017. That clocks in at just under 25% of all podcasts with new production. So the inverse; 75% of podcasts are no longer in production.
Cochrane tells me "90% of all active podcasts achieve 90% of lifetime downloads within 96 hours of posting." This suggests that while a podcast library can be important and lucrative for some podcast producers, most of the content is downloaded and/or played shortly after release.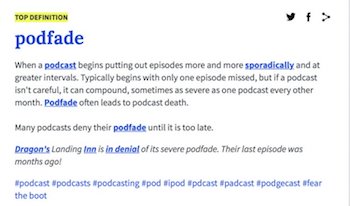 The arc of podcasting may see a parallel in the blog surge of ten years ago. Everybody had one, and then over time, they didn't. There was a lot of inconsequential writing and miserable grammar.
It is hard to know if podcasting will follow the same arc as blogs, but the Blubrry data suggests a similiar pattern of an accelerated rush followed by a gravitational pull downward as reality sets in and the hard work mounts.
This in no way suggests that podcast listening is not on the rise. To the contrary, there are many well funded productions and high-value content abounds. It does suggest that the business may be shifting and maturing away from early stage hobbyists. At Podcast Movement in July it seemed as though the complexion had changed from earlier gatherings – there were far fewer hobbyists and more business entities walking the halls.
Creating good content, finding an audience and monetizing are not as easy as "hey, lets start a show." With 75% of podcasts no longer in production, a lot of former podcasters might agree.