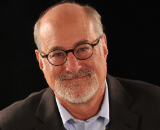 Steve Goldstein's Amplifi Media works with media companies and podcasters in developing audio content strategies. This column was originally published on Blogstein, the Amplifi blog.
---
Much has been written about the discoverability problem of podcasts. Apple recently announced the number of podcast titles has crossed the 500,000 mark, reinforcing the importance of an effective promotional strategy to be recognized and heard.  By comparison, IMDB, the primary database of all things movie related, has roughly 325,000 all-time titles.  So, for even the biggest podcasters, getting noticed is a challenge which almost always requires more than word of mouth or social media which have been the primary promotional podcast marketing tools for years.
In the past few weeks, however, we have seen some breakthrough examples of podcasts featured and cross-promoted in other media. It is worth noting, it is not just because podcasts are having a cultural moment, but because megaphones are becoming part of the weaponry for succesfully promoting many podcasts.
Just recently, The Skimm launched their first podcast to the top of charts aided by their successful e-mail newsletter.  Pod Save America, which went viral after its perfectly timed launch in early 2017, just announced a deal with HBO which has generated significant publicity and will most certainly be accretive to a fast growing brand already delivering over 1 million downloads per program.
Goodbye. We cannot breathe. Thank you so much Skimm'rs. @ApplePodcasts #1 #SkimmLife #SkimmfromTheCouch pic.twitter.com/Fl8qm3yiqJ

— theSkimm (@theskimm) February 7, 2018
The Daily from The New York Times, recently celebrated its first anniversary and its 200 millionth download on the Apple platform.  All along it has received significant cross-promotion from emails, the print pages of the newspaper, and a locked-in prominent position on the front page of The Times website.
With the Olympics happening now, NBC launched The Podium, a podcast which receives support across NBC's various platforms, and not insignificantly, right on screen.
Atlanta Monster from HowStuffWorks has gone beyond their own "walls" and launched  a billboard campaign in the Atlanta area supporting the podcast.
The biggest podcasts now know that to stand-out and grow, a large megaphone is becoming an increasingly essential tool in the arsenal.
WNYC Studio's Two Dope Queens is coming to HBO and has received significant coverage in other media including social and television.
Jessica Williams and Phoebe Robinson blend a unique brand of conversation, stand up comedy and storytelling in their popular podcast @2DopeQueens, which hit number one on iTunes shortly after its launch. They duo joins @CBSThisMorning to discuss their upcoming @HBO series: pic.twitter.com/YmLRtj1XX5

— CBS News (@CBSNews) January 31, 2018
Of course, only a select few of the half million podcasts have the good fortune, resources or significant cross-promotional tools and methods at their disposal. Indeed, there will be podcasts that thrive purely on virality. In a crowded podcast marketplace, however, the chance of being noticed is becoming increasingly more challenging. Even the biggest podcasts now know that to stand-out and grow, a large megaphone is becoming an increasingly essential tool in the arsenal.