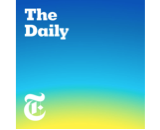 The New York Times' morning news podcast The Daily will extend to radio, joining a cross-medium expansion trend that has recently seen Pod Save America and Two Dope Queens extend to HBO. More than a simple syndication, The NYT team will produce a 30-minute version of the show offering a detailed dive into one or two big headlines from the day. The morning podcast varies in length, which doesn't agree with radio's stricter clock, and is usually shorter than 30 minutes.
This is a public radio venture. American Public Media will distribute a radio version of the podcast beginning in April 2018.
Interestingly, the show will air as a weekday evening program. So, The Daily will not just expand to a different distribution platform, but will plant a flag in a different daypart.
"It's been such a joy to see The Daily welcomed into millions of people's lives over the past year," said Theo Balcomb, The Daily's managing producer. "As a team, we've aspired to earn that trust by offering listeners a rich understanding of the day's biggest news. And now, we're thrilled to introduce The Daily to a whole new audience of radio listeners."
The podcast is one of the leaders in a new wave of daily news shows. Its main competitor in the morning is Up First from NPR, which is distilled from of Morning Edition, the two-hour over-the-air behemoth. Up First is a good example of the reverse migration — broadcast to podcast — which has fueled NPR's dominance of podcasting's upper echelon.
Vox Media is also working in the podcast news space, with its soon-to-launch Today, Explained, which is avoiding the morning land-grab (for now) by dropping its show in early evening.
The Daily is clearly looking for audience expansion, and the APM deal will expose the show to 20-million listeners a week. The New York Times will take a cut of sponsorship revenue sold into the show.
The development was announced by executive producer Lisa Tobin at the Code Media Conference.