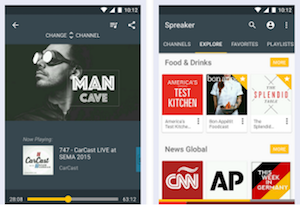 Spreaker has debuted a new app for curated podcast listening, and is marketing it as the first radio-like mobile podcast listening app on Android.
The Spreaker Podcast Radio app allows users to build their own playlists or to delve into the channels with programming chosen by Spreaker's team and by guest partners. It's also a showcase for content created with the Spreaker Studio app, with all shows made in that program available for listening. Thanks to outside partnerships, tens of thousands of shows not hosted by Spreaker will also be available on this platform. The app also has offline listening, and features for commenting and chatting with other listeners and hosts.
For Spreaker Founder and CEO Francesco Baschieri, the app's purpose is to cut through the noise and help users find shows they like. "With more and more podcasts becoming available every day, discoverability has become a key issue," he said.
The app launched on Android phones and tablets today, with a rollout to iOS projected for the spring of 2016.