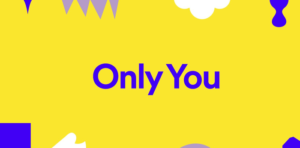 Spotify has long encouraged musical self-reflection in its subscribers with an end-of-year feature called Spotify Wrapped. That annual experience tells users what they listened to most, and how much, and encourages continued listening with personalized playlists hammering home the faves. (Listening metrics are bundled into the annual retrospective, too.)
Now the streaming platform seems to be thinking that once a year isn't good enough, or that if it's a good annual feature, it's a good semi-annual feature too. Spotify has launched Only You, a separate section in the app stocked with playlists based on H1 listening. "Only You is all about celebrating how you listen," Spotify asserts in a celebratory blog post.
It appears to be a continuing feature that presumably will evolve with each user's continued listening.
We generally like inventive personalizations in music apps, and our first test of Only You was positive. Our second test was delayed because we couldn't find the darn thing — it was no longer visible in the Home tab of the Android app. We had to search for "only you," and brought it to the screen that way.
Putting aside the coy mystery of its placement, we enjoyed the echo of Wrapped, dipping into mixes based on genres and artists we favor. Another agreeable part: Decade Mixes, personalized by our listening history. For those who don't pay much attention to when songs were made, you might be surprised by how with-it (or not with-it) you are.
Here are the main programming points in Only You, as described by Spotify:
Your Audio Birth Chart: It's a musical meeting of cosmic proportions. Your Sun sign details the artist you listened to most over the last six months. Your Moon sign demonstrates an artist you listen to that best shows your emotional or vulnerable side. Your Rising sign brings it all together with an artist you've recently connected with.
Your Dream Dinner Party: Choose the three artists you'd invite to the dinner party of your dreams. Once you select the trio, Spotify will create a personalized Spotify Mix for each artist to set the mood of the meal.
Your Artist Pairs: This experience demonstrates unique audio pairings that you've listened to recently that show your range of listening interests. For example, who else would play some Greta Van Fleet right after jamming out to Olivia Rodrigo?
Your Song Year: When is the music you listen to from? This part of the experience shows how you've musically traveled through different time periods with music.

Your Time of Day: Early bird or night owl, discover the music and podcast content you listen to at certain times, whether early in the morning or late at night.

Your Genres/Topics: Finally, bring it all home with the combination of music and podcast genres that sets your listening apart.
There's more. Within Only You is a completely new tech feature called Spotify Blend, which allows two connected friends to mash together playlists. The connecting mechanism (in the Android phone app) happens within the normal Share feature you might use on the web to send an article to a friend — the Blend connection does not transpire within Spotify, so you don't necessarily know whether your Blend target uses Spotify at all. Well … new feature; early days.
.