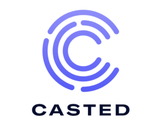 Casted, a content marketing platform for podcasters, has announced a feature expansion of its platform that includes enhanced searching, transcribing, indexing, video creation, and like/share insight.
Casted brags that Casted Search is the only search engine that transcribes and indexes every word in every audio and video file uploaded to the platform. We're uncertain whether that claim is absolute, but as advocates for podcast transcriptions generally, we applaud this feature. Entire podcast libraries are now searchable in Casted, providing a rich library of marketing material, including compelling conversational moments, in text form.
A new "videogram" feature allows creators and marketers to make video clips from audio, without cutting content and loading it into external video editors. This appears to be something similar to Headliner, but again, the advantage lies in butting the tool in a multi-featured platform many podcasts already use. Videos created this way can easily be shared to social platforms.
After that sharing, or any type of social sharing, Casted now offers Audience Likes & Shares, which tracks social traction around posted content. Using this, podcast marketers can assess their social  strategies and social traction of their shared podcast content.
"Engagement is one of the most crucial elements in determining the health of your content, but there was no great way to measure that engagement – especially in podcasting – until now," said Adam Patarino, Co-Founder, Product and Technology, of Casted. "No other platform can tell you how people feel about your podcast to this extent. Our engagement feature not only provides marketers with insights to better understand audience preferences, it allows them to show how the content is impacting their brand, their business, and their overall marketing strategy so they can prove the value of their content and make informed decisions."
.