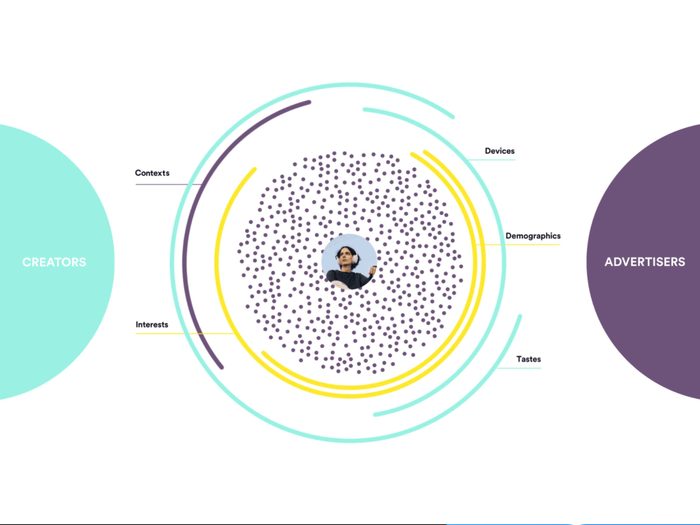 Marketing it as a "first-of-its-kind audio advertising marketplace," Spotify announced the Spotify Audience Network as part of its wide-ranging "Stream On" presentation.
The promotional emphasis is on podcast advertising, but the marketplace itself includes music streamed to an audience of about 155-million listeners in Spotify Free, the ad-supported non-subscription service layer. And while the announcement was splashy, Spotify noted that it is "in the early stages"  of developing the network.
At the foundation of this initiative is the company's Streaming Ad Insertion (SAI) tech, which potentially displaces host-read ad riffs which traditionally have funded podcasts. The broad philosophy behind it is not new — podcasting as a category has been edging into the programmatic space that many advertisers expect and demand in their digital media campaigns. Spotify's first-mover advantage here is its existing Streaming Ad Insertion (SAI) tech, which puts audience targeting and ad delivery in real time. Putting it all together, Spotify promises, creates "one of the world's most scaled and sophisticated audio advertising marketplaces."
Spotify is setting the stage for what it calls "advanced insights" about listeners, addressable by standard coordinates of age, gender, and location (commonly known as ZAG: zip, age, gender). The company also promises audience lifestyle segments such as fitness enthusiasts, gamers, and luxury shoppers.
All of this is based on a research theory that "audience-based buying" is what podcast advertisers want more than any other system. (Spotify cites "Advertising Perceptions: Podcast Advertising Market Report (Q4 2020)" in that assertion.) TV content giant HBO Max acted as announcement partner in this, testifying that Spotify helped HBO reach entertainment seekers.
Spotify said that the ad network project is in early stages now, and promised more announcements "in the coming months." The proposed audience network will expand to Spotify's Megaphone and Anchor platforms as it is developed, significantly expanding the program's reach.
.