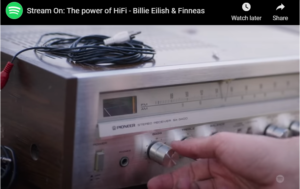 Spotify grabbed part of competitor Tidal's key differentiator yesterday by announcing the introduction of a new subscription level called Spotify Hi-Fi. The company evangelized it in the same "we care about the artist" way it has been promoted elsewhere: listening to songs "the way artists intended."
Our experience, and our imagination, doubt that many artists care as much about hi-rez recordings as they do about distribution and followers, but Spotify also notes that "fans have told us that sound quality is important to them." Fair enough, and creating a (more costly) subscription layer for well-equipped audiophiles is certainly viable.
The well-equipped part is key, since the greater mass of global listeners — many of whom are hearing music through phones and earbuds in noisy environments — would probably not hear much difference. (The editor of RAIN News recently sat with an experienced audio producer and a set of Neumann KH 310 studio monitors — an extraordinarily informative set of speakers — to compare file formats in a soundproof studio. It was exceptionally difficult to discern between a 320k MP3 and lossless formats.)
In a Spotify video which supports the announcement, Billie Ellish notes: "There's just things you will not hear if you don't have a good sound system." The video shows her sitting in outdoor sound pod-bubbles filled with sound gear. (See below.)
Equipment notwithstanding, we know individuals who subscribe to Tidal's hi-rez plan, and there is undeniably a market there for Spotify to serve. The company asserts: "High-quality music streaming is consistently one of the most requested new features by our users."
Announcement points:
Spotify HiFi will deliver music in CD-quality, lossless audio format to your device and Spotify Connect-enabled speakers, which means fans will be able to experience more depth and clarity while enjoying their favorite tracks.
Ubiquity is at the core of everything we do at Spotify, and we're working with some of the world's biggest speaker manufacturers to make Spotify HiFi accessible to as many fans as possible through Spotify Connect.
HiFi will be coupled with Spotify's seamless user experience, building on our commitment to make sure users can listen to the music they love in the way they want to enjoy it.
Spotify HiFi will begin rolling out in select markets later this year, and we will have more details to share soon.
No info about subscription cost.
.