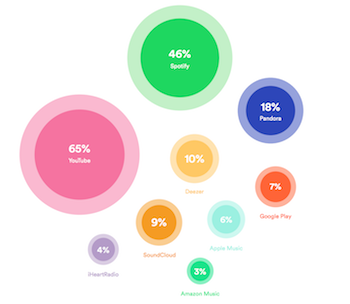 Spotify and GroupM, which struck an alliance in November, have jointly executed a study (Streaming State of Mind) into streaming media consumption, listener demographics, mobile listening, and ad spend. The multi-part study covers seven global markets — a portion of GroupM's Live panel, which encompasses 5.5-million online survey respondents in 30 geographic markets.
Streaming State of Mind is part of Spotify's ongoing effort to research consumer listening habits, establish the value of streaming audio advertising, and market the opportunity of its own online radio platform. This study estimates that $220-million of new ad revenue has been created by smartphone listening in the studied markets. The recently complete work also predicts that the streaming market will see double-digit growth by the year 2020.
With more than 60% of streaming happening on mobile devices across the covered markets. Spotify's internal data found that 69% of its streams come from mobile. Much of the mobile listening is centered around particular moments or activities. For instance, about 20% of mobile listening happens while running errands and 30% happens while showering. These correlations come from matching GroupM survey data with Spotify's first-party data harvested from user playlisting.
Streamers are 23% more likely to value access over ownership compared with non-streamers. The study showed a greater likelihood of trying out content among streamers, with an average of 4.8 genres listened to over 3.7 for non-streamers. YouTube and Spotify were the preferred sites for free streaming among the weekly listening habits, distantly followed by Pandora. (Pandora is not available in the non-U.S. markets involved in this study, except Australia.)
Average time spent consuming media has increased by an hour over the past two years. Streamers are more likely to be reached weekly by all types of media, with 90% more likely to also tune in to podcasts and 12% more likely to listen to FM radio.
"But if there's anything that the rise of streaming has shown in recent years, it's that media is far from a zero-sum game," the report said. "For content creators and advertisers, the implication is clear: Rather than viewing streaming as an immediate threat or substitute, it should be approached as a complementary aspect of the media landscape."
That statement echoes Spotify's thematic argument to advertisers over the past two years, encompassing a different research project with TNS. In that project and this one, Spotify's pitch to advertisers is that the best way to reach the largest audience at all time of day is to market across traditional and streaming radio platforms.
In terms of demographic information, listeners from Generation Z stream 90 minutes more content on average than their baby boomer parents. They are also twice as likely to stream from their smartphones. Across countries, Gen Z listeners are more likely to stream on a weekly basis. In terms of other demographic data, the study found music streamers more likely to be affluent, slightly more likely to be male, and less likely to have children.