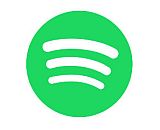 Spotify is trying out a new layer to its alerts about new music releases. The platform already shows full-screen pop-ups to users when their favorite artists drop new albums. With the new feature, artists and their management would have the option to pay to sponsor those recommendations. The test will let both free and premium listeners see album alerts from a wider range of artists.
In the test phase, even the paid new music announcements will be focused on a listener's individual taste. The alerts will only come from artists that a person follows or listens to frequently. Premium subscribers will have an option to turn off the album alerts from a particular performer or to turn them off entirely.
Spotify said this feature is "an upcoming test we're running in the U.S." The company didn't offer any further details about specific dates or the scope for the test phase.