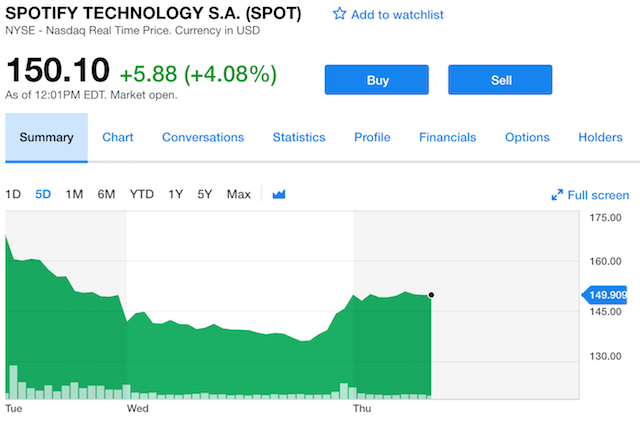 Spotify has been trading on the New York Stock Exchange for two full days, meaning we're starting to see the streaming service's shares near a potential equilibrium after the hotly-anticipated direct listing. The business debuted on April 3 at about $165 per share for a valuation of about $30 billion. However, the price dipped over the course of its opening day, and started on April 4 at about $142 per share. Today's trading opened at about $150 per share and, as of publish time, it has hovered near that price since.
The move has generated a very divided reaction across Wall Street and across the music media. Stifel Nicolaus analyst John Egbert dubbed Spotify one of the best-value deals on the Internet and issued it a buy rating.
"We believe an all-you-can-listen-to on-demand music streaming service for $9.99 a month is high on the list of Internet services offered on a value per dollar basis, right behind's Amazon's $99 a year all-you-can-order (and more) Prime membership and Netflix's $10.99 a month all you-can-watch subscription," Egbert said. His statement has been credited with helping create the Thursday morning bump.
A few other analysts have also been positive about the newcomer. MKM Partners and Guggenheim issued buy ratings, while Gabelli went with hold and Atlantic Securities dubbed it overweight.
Spotify isn't the only company tracking its share prices closely. Several other parties have owned a stake in the streaming platform and are likely to sell off their shares and recoup a windfall. Sony Corp, a Sony Music Entertainment subsidiary, has already come out with information about its sale. The company reported a gain of 105 billion yen ($986 million) from selling 17.2% of its total Spotify holdings, which amounts to a 5.71% stake in the streaming service.