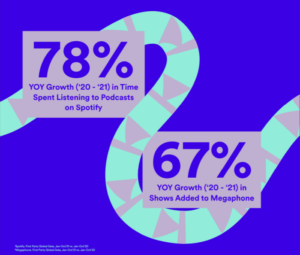 A day after Spotify's (botched, but we made enough noise about that yesterday) end-of-year Wrapped product, the company releases Wrapped for Publishers. It offers podcast listening metrics in 2021.
It is all about growth, and big percentages are featured, including a 2,736% lift of in-car podcast listening. (That's not a typo.) Some numbers are unexpected and offer a fresh view of how consumers listen to podcasts — notably, +193% on smart TVs.
There is an international scope to these numbers, as you'd expect. Podcast hosting, data, and monetization subsidiary Megaphone contributed insights, adding to Spotify's first-party global data, particularly regarindg individual country metrics. So, for example, listening to podcasts grew 110% in Italy, and rose in double digits in each of France, Spain, and Australia.
Below are key points sent to us by Spotify. An infographic is freely available HERE.
Growth in Listening

79% of global audiences turned to digital audio to combat screen fatigue (Spotify x IPG, Digital Audio Expansiveness Report, 2021)

Spotify saw a 78% YOY growth in time spent listening to podcasts on Spotify (Spotify First Party Global Data, Jan-Oct'21 vs. Jan-Oct'20)

A Podcast for Everyone  (Spotify First Party Global Data, Jan-Oct'21 vs. Jan-Oct'20)

Listenership of Megaphone podcasts grew 110% in Italy, 30% in France, 26% in Spain and 25% in Australia

Spotify saw a 57% increase in listeners ages 55-64 and a 53% increase for listeners older than 64. 18-24-year-olds listened to podcasts 27% more in 2021 than 2020

Listening Together (Spotify First Party Global Data, Jan-Oct'21 vs. Jan-Oct'20)

Podcast listenership on home-based devices like smart TVs (+193%) and smart speakers (+98%) increased across Spotify in 2021

Podcast listening in the car (+2736%), on gaming consoles (+45%), and on wearable devices (+31%) increased drastically from 2020

Earning More from Podcast Content (Spotify First Party Global Data, Jan-Oct'21 vs. Jan-Oct'20)

Unique advertisers on the Spotify Audience Network grew 110%

Publishers saw fill rates grow by 21% and total ad impressions increase by 37%