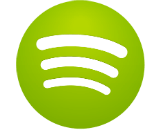 In sharing the news of Google Cast from CES, we noted that the tech giant could face an uphill battle getting both streaming audio services and hardware companies to sign on to its vision for at-home listening. Less than a week after the announcement, Google Cast reportedly has a major player that's not interested: Spotify.
An unnamed representative from the streaming service told Pocket-lint that the company would be focused on developing its own Spotify Connect system and reportedly denied involvement with the Google Cast system. "We launched Spotify Connect because we believe that by owning the technology end-to-end, we can deliver the best connected home music experience," the rep said.
Even if the two parties never team up, that's not to say that you won't be able to find a single WiFi speaker that will have both Google Cast and Spotify Connect systems. Both approaches have a good amount of existing support and have promised more partnerships to come. And Spotify is getting plenty of tech interest on its own, too: Philips announced a multi-room speaker system at CES dedicated to interfacing just with that streaming platform.