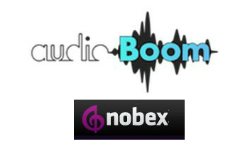 If audio-on-demand is a key phrase for 2015, a new partnership sets the stage. On-demand audio hosting platform AudioBoom has partnered with mobile services company Nobex Radio to provide on-demand audio listening to radio station listeners on their mobile devices. We spoke to executives and both companies.
Nobex serves thousands of radio stations in 75 countries around the world. Using a rev-share model, stations can sign up in the Nobex Partners program without charge. They get a feature-rich, station-branded mobile app.
AudioBoom serves audio publishers of all sorts that have on-demand programs. The UK-based company offers mobile production tools and a listening platform. As radio stations increasingly move into the on-demand audio space with podcasts, archived shows, and other programs, the AudioBoom-Nobex hook-up gives Nobex-powered stations an easy way to incorporate on-demand listening in their mobile apps.
Gadi Mazor, Founder and CEO of Nobex, explained to RAIN News that the technical integration happens at the server level, making it easy for Nobex partners to implement the new function. They only need an AudioBoom account, and to populate it with content.
Stuart Last, AudioBoom VP in U.S. and Canada, noted the business advantage for his company: "It allows us to encourage more radio stations to use our platform, to expand the reach of on-demand audio across all their platforms. From a business point of view, this partnership helps with our expansion."
From Nobex's perspective, adding non-linear on-demand content enhances the value of his product to stations, deepening the brand engagement of listeners beyond what can be expected on an aggregating platform like TuneIn or iHeartRadio. Mazor explained to RAIN that developing a brand-specific app with station resources is unmanageable for all but the richest operations, so his company fills an essential middle ground.
How well will the integration be adopted by radio stations on the Nobex platform? Gadi Mazor told RAIN that the feature was quietly and unofficially made available to Nobex radio station partners, and there was an immediate rush of sign-ups.