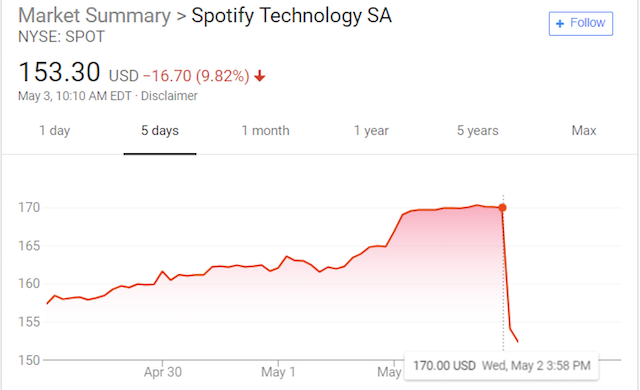 Spotify shared its first quarterly earnings report since the company listed on the New York Stock Exchange last month. Despite a solid performance in listener and subscriber numbers, Wall Street was unimpressed with the results. Spotify's stock price sunk after the data was released, falling from about $170 per share to about $153 per share.
Total revenue for the period was nearly €1.14 billion, up 26% on-year. The revenue from premium listening was almost €1.04 billion. Ad-supported revenue reached €102 million. The press release stated that direct channels remain the top driver of ad-supported revenue, but acknowledged that programmatic revenue nearly doubled from the previous year and has outperformed expectations.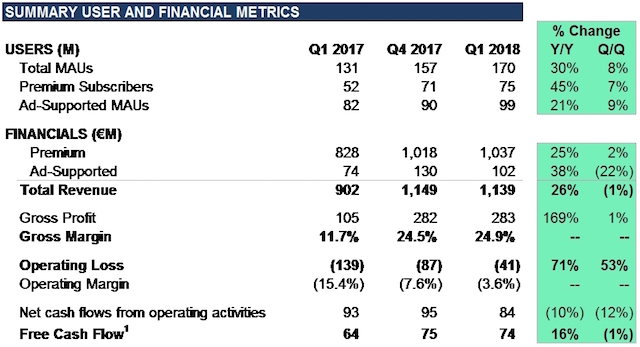 Spotify posted a net loss of €169 million, or €1.01 per share, for the quarter, compared with a loss of €173 million, or €1.15 per share, in the year-ago period. The company noted that foreign exchange rates had a negative impact on its results.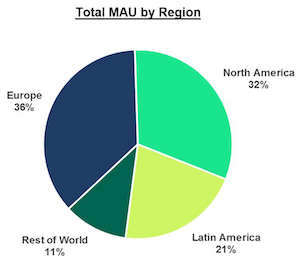 Spotify reported 170 million monthly active users and 75 million premium subscribers by the end of March. The total audience grew 30% year-over-year, and the premium figure was up 45% from the year-ago period. The press release included graphs with geographic break-downs of where the listeners and subscribers are. For both groups, Europe and North America had roughly even shares. Europe took a more decisive lead in subscribers with 40%, while North America had 31% and Latin America had 20%.
Finally, the company shared its outlook for Q2. Spotify expects to see monthly active user base between 175 million and 180 million, with premium subscribers between 79 million and 83 million. Projected revenue is between €1.1 billion and €1.3 billion while the expected operating loss is between €60 million and €140 million.