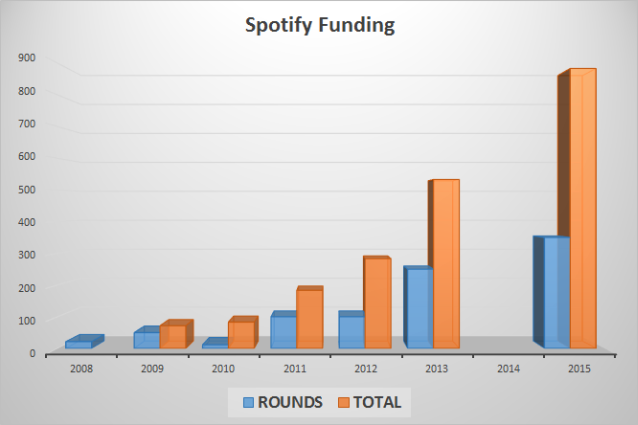 Rumor (and more rumor) has turned to apparent fact, as CNBC is reporting that Spotify has raised a new funding round of at least $350-million, led by Goldman Sachs.
The funding round closed on a "first close" basis, so new investors may yet join. When first rumored, the Wall Street Journal reported that Spotify was seeking $500-million. A second WSJ report put the target at $400-million. However slippery the rumored numbers might be, it seems likely that Spotify has been working on fundraising for several months.
The fresh capital is reportedly based on a valuation of $8-billion, though in the first swirl of substantiated rumor, including previous WSJ reports, it is not clear to us whether that benchmark includes the new funding or not. But it seems safe to say that Spotify is valued by investors at $8-billion or upward. The inevitable comparison is to Pandora, a public company whose market cap is always visible. Today, Pandora is valued at $3.7-billion.
The $350-million figure makes this the largest capital round in Spotify's history, which goes back to a $22-million Series A in 2008. The most recent previous injection came in November, 2013, for $250-million. Today's reporting brings the company's total investment war chest to about $890-million.