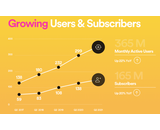 Yesterday we  covered the financials of Spotify's Q2 earnings report. The broad strokes in the financials are: positive numbers, slightly missed expectations, and a stock drubbing. (SPOT stock has recovered about half of yesterday's loss as of this post.) Today we look at podcast news.
The headline podcast metric of Q2 is gleaming: 627% revenue gain year-over-year. "Better than expected," CFO Paul Vogel demurred. Vogel also said the rise in revenue resulted in better margins, too. "We're going to continue to invest in the business, but I'm super pleased with how it performed in the quarter," Vogel stated.
CEO Daniel Ek evangelized the company's new Paid Podcast Subscriptions product, which allows creators to earn revenue directly from  listeners, aligning with a broad industry trend unfolding in Apple and other platforms. "These product innovations unlock an entirely new class of content on Spotify," Ek evangelized.
One investor in the call asked whether Spotify was leaning into a strategy of favoring spotify-exclusive shows (the most prominent of which is The Joe Rogan Experience), and whether, if so, it signals a broad tactical shift. Daniel Ek did not affirm that, but his answer's meaning lies in the ear of the listener:
"I don't think really anything has kind of changed. I think we have been experimenting with windowing. We have been experimenting with exclusives and we've said for quite a long time that, obviously, we want more and more of the listening to happen only on Spotify. So it's been kind of more of a natural evolution to drive it toward that end. I do think, again, from a strategy perspective, we are very much aiming to be a very open platform all along, and the most important job for us is to be a great partner to all the creators that we have in the ecosystem."
.