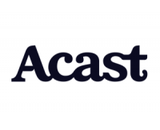 Acast Creative, a unit of the global podcast company which produces podcast content (shows and/or episodes) for brands, is expanding with a U.S. launch this week.
The company first launched Acast Creative in its European market in 2018, and says there has been a 250% increase in branded content spend over the past three years. Now, Acast has tapped Shantae Howell as Creative Director of the Americas to lead the team and expand the success of Acast Creative in the U.S. market.
"As a storyteller, creative marketer and avid listener, I was drawn to Acast's commitment to supporting creators in their efforts to grow and monetize, while ensuring the podcaster maintains creative ownership," said Howell. "It's a business model that benefits the podcasters we work with, the audiences they serve, and the brilliant brands whose stories we get to tell."
Prior to joining Acast, Howell was the Senior Audio Strategist and Producer for Vox Media,  where she was central to the development of "Who We Are: A Chronicle of Racism in America," a podcast in partnership with Ben and Jerry's that examines the lesser-known history of racial injustice. Howell also worked on the TMI Project "Black Stories Matter" podcast, spearheading partnerships with major distribution platforms like Apple Podcasts, to improve discoverability — and played a key role in developing cross-promotional partnerships with like-minded platforms such as KQED's "Truth Be Told." Before all this Howell worked at Facebook.
Howell will report to Jack Preston, who led the creative effort in the UK, and is now promoted to Director of Acast Creative UK + US.
Examples of the unit's creative output include a branded episode of the popular beauty and wellness podcast Gloss Angeles with Ulta Beauty. The collaborative episode explored the history of sunscreen, pulled back the curtain on common myths about sun protection, and highlighted Ulta Beauty sun protection products.
Earlier this year, Acast Creative also launched a fully branded podcast series with high-end audio solutions provider EPOS called Powered By Audio — a podcast about sound and the stories behind the sounds we hear every day.
.