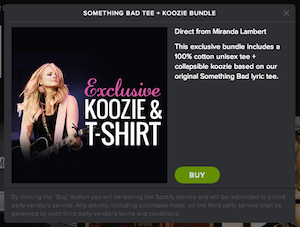 Spotify announced a new partnership with BandPage that will integrate a digital storefront into artists' presence on the streaming platform. Musicians will have an option to sell their BandPage merchandise or promote unique fan experiences from their artist pages on Spotify. The new feature is free for the artists to use, and could be a way for them to turn the streaming service into a hub for fan engagement and revenue.
Some popular artists have already taken advantage of the BandPage tie-in by promoting exclusives for their fans. For instance, pop singer Ariana Grande is giving signal boost to an online concern, while country artist Miranda Lambert is selling a beer cozy and t-shirt bundle.
This type of arrangement between streaming platforms and music-centric marketing or merchandising resources could be a new trend. BandPage's previous merchandise sales partner, TopSpin, got bought up by Beats Music in March.