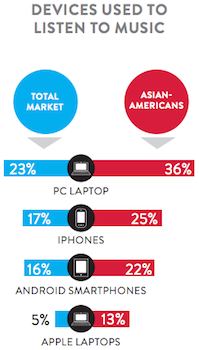 New Nielsen research focused on the role Asian-American listeners play in digital music. Spotify was more popular in this demographic than in the general population, by a margin of 14.4 percent to 7.6 percent. Many listeners also gravitated toward services that focus on music in their native languages rather than English. For instance, many Indian listeners use Saavn, Korean listeners have melon.com, and Japanese listeners recently got RecoChoku.
The report also showed a greater inclination to use digital platforms among Asian-Americans. Smartphone ownership is more common, with 81 percent of Asian-Americans having one compared with 70 percent among the total market. That translated to more music activity than other demographics, as the graphic demonstrates.
This assessment is Nielsen's latest analysis of a subpopulation of listeners. Other Nielsen reports have focused on Hispanic and African-American audiences.