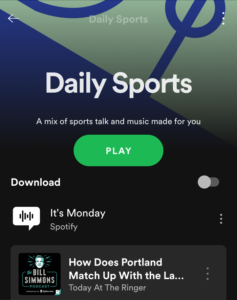 Spotify has announced a new daily sports playlist, appropriately named Daily Sports. This new product triples down on mixed-media programming that combines spoken word and music. As such, the playlists are personalized to each user — at least so far as the music is chosen. 
"To the excitement of sports fans, many major athletic leagues are anticipating returning for their seasons this month—meaning a renewed lineup of athletic content and news. So to help fans keep up with all these games, Spotify is throwing the first pitch for Daily Sports."
Spotify has been down this road twice already, with Daily Wellness and Your Daily Drive. Mixing spoken word with music is part of the company's effort to diversify listening, and shift usage time into low-cost non-music content.
This new  programming venture also meshes with Spotify's acquisition of The Bill Simmons Podcast and The Ringer network. In our app, the debut edition of Daily Sports leads off with a Bill Simmons episode (nine minutes), followed by Sports News Minute, The Lead, and ESPN Daily. These podcast entries are separated by two music tracks each. After ESPN Daily the playlists settles into all music. Total podcast time in the playlist is 58 minutes. 
"It's designed to fit seamlessly into your routine," Spotify says, "and provide you with the best way to not only get up to speed, but to stay in the know on all things sports—especially as all major sports play during the same season."
The new playlist shows up for both Free and Premium users in the U.S.