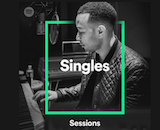 Original programming is the latest trend when it comes to streaming video, but streaming audio is also getting in on the act. Spotify is launching two new programs focused on sharing original musical recordings.
The first show is Singles. With this series, performers record a pair of tunes for exclusive release on Spotify. The first song is usually a current hit, and the second is a cover. For instance, one of the debut duos is from jazz artist Esperanza Spalding, whose songs include a new performance of her song "Unconditional Love" along with her take on David Bowie's "If You Can See Me." John Legend, Tove Lo, and Lindsey Stirling are among the other artists who have contributed tracks to this show, which is already available.
The other Spotify show is simply called Live. As the name implies, it will be a collection of live performances done specifically for release on this platform. Both the new programs are branded as Spotify Sessions, which includes other playlists of exclusive performances. However, Forbes reported that the other playlists of in-person music within the Sessions umbrella would end to focus on Live.