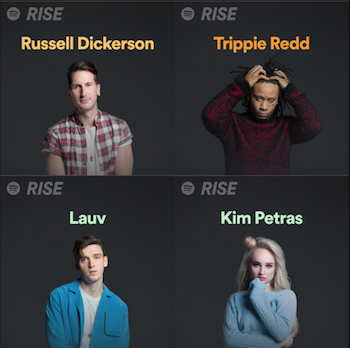 Spotify has introduced a new platform for helping promote emerging artists called RISE. Performers selected for RISE will receive preferential, mixed-media playlist placement, and editorial programming within Spotify. The music company will also support the artists with special live events and television ads. Troy Carter, Spotify's global head of creator services, said each artist would see an investment of "significant resources" into their work, but he did not specify a dollar figure.
"We have the biggest distribution system in the world for streaming music so why not use that to help young artists," Carter said.
The first found of artists span a wide range of styles, from country to rap. The debut participants are Lauv, Kim Petras, Russell Dickerson, and Trippie Redd.