Spotify has dropped a group of audiobooks — nine of them — comprising public domain classics read by known actors. Barely a toe in the water of audiobook creation and distribution, Spotify itself has not announced the releases in its newsroom.
This disturbance in the Spotisphere is being covered with words like "hint" and "dabbling." We listened to bits of The Awakening by Kate Chopin, read by Hillary Swank, and Frankenstein performed by David Dobrik.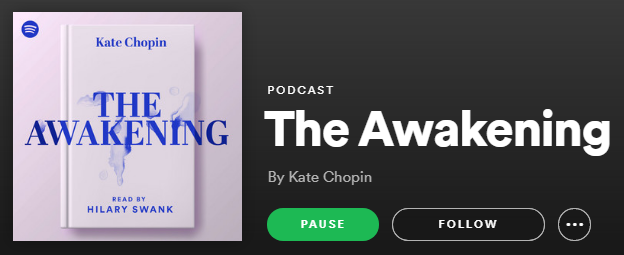 While the effort is minimal, the purpose seems to be testing usability of the format (not unlike a podcast, each chapter in a separate Spotify track) with a bit of scale.
Interestingly, Audible discourages public domain readings, although it accepts them, of course. The company claims that as a group, classics published after 1925 (the current date when American books entered PD this year) just aren't popular. Part of the reason might be that the old books invite amateur voice artists to try grabbing a drop of the audiobook honeypot. Indeed, there are public domain novels in Spotify created by indie podcasters, and categorized as podcasts.
Spotify's initiative, of course, raises the game considerably with celeb narrators, including Cynthia Erivo, James Langton, Sarah Coombs, and others. A quick whirl through the catalog showed us that recording quality is pro, if the narration performances might not be equally winning.
All in all, this seems like a reasonable strategic nibble for the world's leading audio listening platform. We expect serious and scaled efforts in the future. It might seem quixotic to challenge Audible — but Spotify productively challenged all of podcasting in a two-year span.
.