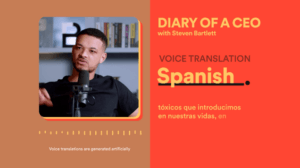 Spotify is piloting an AI tool which translates any podcast into alternate languages, called Voice Translation for Podcasts. The translation is one part; perhaps more startling is the AI technology which also synthesizes a voice sounding nearly identical to the original.
"It's pretty insane […] deep real, instead of deep fake." –Daniel Ek, CEO Spotify
Announced in a tweet from CEO Daniel Ek alongside the formal PR, this capability has powerful potential. Any podcaster can instantly attain international reach in non-English-speaking regions, potentially multiplying their addressable audience.
As an example, Spotify offers a couple of samples (click the play button below):
Podcasters – what if I told you could offer your pod to any listener around the world, in their own local language but still keep it in your own voice? That's the pilot we're launching @Spotify!

It's called Voice Translation and using AI, translates podcasts episodes into… pic.twitter.com/kYq0bgxJYq

— Daniel Ek (@eldsjal) September 25, 2023
Spotify solicited a handful of well-known podcasters as pilot partners — Dax Shepard, Monica Padman, Lex Fridman, Bill Simmons, and Steven Bartlett.
"By matching the creator's own voice, Voice Translation gives listeners around the world the power to discover and be inspired by new podcasters in a more authentic way than ever before," says Ziad Sultan, VP of Personalization. "We believe that a thoughtful approach to AI can help build deeper connections between listeners and creators, a key component of Spotify's mission to unlock the potential of human creativity."
Unaddressed in the formal announcement is whether the podcaster turns on the translations, or they are generated automatically at the listener's request. We have asked Spotify for clarification.
---